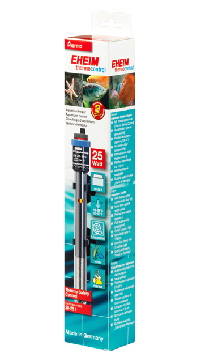 Submersible Heaters
(formerly Jager Heaters)



* automatic dry run shut off
* fully submersible
* special Schott DURAN shatterproof glass
* heating function indicator
* precise temperature control
* temperature recalibration





Ebo-Jager is known for quality Aquarium Heaters for over 20 years. NEW Jager German made models now manufactured in Germany by EHEIM , continues the tradition of a quality submersible thick shatterproof glass heater with Eheim's reputation for quality control and manufacturing expertise. Experienced fish breeders will not risk their livestock with anything else. Easy to adjust dial with temperature graduations and unique feature that allows user re-calibration. UL listed models required in many commercial applications. In larger tanks or Central Filter Sumps, combine these heaters with our Temperature Controller for unparalleled temperature control. Multiple heaters work best when controlled by one Temperature Sensor as opposed to individual heater thermostats. General rule of thumb for sizing is 3 - 5 watts per gallon of water. Stay on the higher side of range if your room's ambient temperature is lower than normal (as in basements) or if you are keeping very warm water fish such as Discus. We discount in quantity and combinations of any size can be made for quantity price break levels.